Window Repair in St. Louis
Got Window Problems? Call Your Window Repair Specialists in St. Louis.
A challenge many homeowners face is whether they should replace a broken window or have it simply repaired. In some cases, a repair might be all it takes to keep the window you already own safe and operational for a fraction of the price of replacement. We service all types and brands of windows and can usually get the parts or glass you need to keep them not only operational but looking good for years to come.
Examples of minor issues that may only require repair include…
Window keeps jamming
Window will not stay open
Broken or cracked glass
Fogginess or condensation between the panes
Wood frame is beginning to show signs of light deterioration
There are minor leaks
The handle or lock is broken
The weather stripping is either missing or damaged
Clear Window Technology Inc. is a local, family owned-and-operated business with close to 40 years of experience. We earned the reputation of being trustworthy and reliable for families all across St. Louis. Only trained specialists, like those at Clear Window Technology Inc., can determine the severity of the above issues. Our professional opinion on how to proceed with a broken window is honest and fair, as are our service rates. We will repair or replace your window in an efficient manner, allowing you to get your window back to normal as soon as possible for the safety of your family.
No pushy salespeople, just quality workmanship at a low competitive price. Our technicians are fully licensed and insured, and we pride ourselves on providing complete customer satisfaction.
Contact us today to come take a look at your window!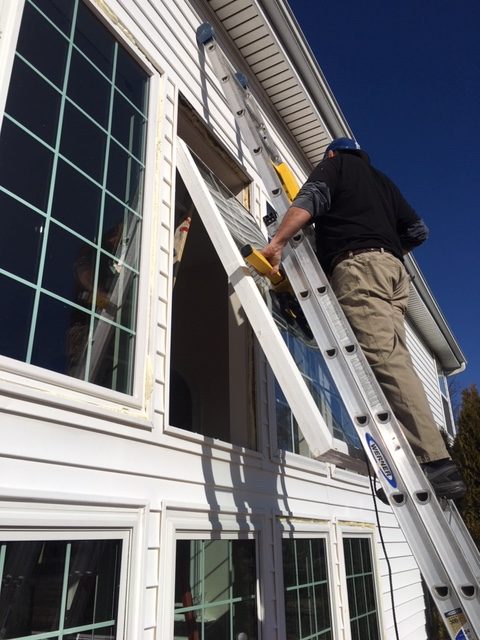 Our Window Repair Services in St. Louis
We specialize in all aspects of window repair. Whether you only need a single window repaired or a complete renovation on all the windows in your home, our professionals at Clear Window Technology Inc. have done it all.
Foggy Window Seal Repair: Foggy windows occur when condensation begins developing between your glass panes. Once this moisture starts settling, it becomes permanent, progressive, and can cause irreparable harm to the whole window unit. With the help of our proprietary tools, the experienced technicians at Clear Window Technology Inc. completely remove condensation and re-engineer a new window seal so that your window can get rid of moisture on its own. Learn more about this process on our foggy window repair page!
Broken Glass Replacement: Kids will be kids— and as long as they are playing in the house, broken windows are bound to happen. If your glass has a crack or hole that's letting in air, we can be there in no time to repair! We can even upgrade the glass you had previously to a variety of options, such as UV protection, better insulation, thicker, or more durable.
Window Screen Repair – Do you have a rip or hole in your screen that could be letting in icky bugs and spiders? We can come to your house to custom fit a new screen with precise measurements, allowing you to enjoy your window without letting those little intruders into your home.
Window Frame Repair – Some window frames may become deteriorated beyond repair, but if caught early enough, our technicians can fix it before you have to get a costly replacement! We specialize in the repair and restoration of window frames and other window fittings, such as sashes, window sills, brick moldings, and more. Even if the manufacturer is out of business we can often get the parts and glass you need to complete the job.